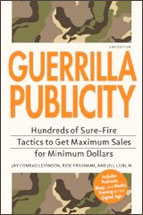 Guerrilla tactics to get
maximum sales for
minimum dollars
Publicity is one of the most overlooked marketing tools. With a little information and training, it can be one of the most powerful marketing tools for any company, large or small.
Guerrilla Publicity builds on the potential and wisdom of the best-selling Guerrilla Marketing Series with simple to use and easy to understand tips, tactics and resources to increase the effectiveness and profit potential of your business.
The Guerrilla Publicity website is an extension of the print edition of Guerrilla Publicity. In this site you'll find additional information and resources to help your business stand out, excel, and be noticed.
The concept of Guerrilla Marketing is maximum return for minimum investment. Guerrilla Business operators leverage knowledge and skills to cost effectively build their businesses.
When Guerrilla Marketing was first published in 1983, its edgy approach helped it shoot to the top of bestseller lists. The book was a breakthrough for small businesses and has since yielded several classics bearing the immediately recognizable, Guerrilla name. Now, Jay Conrad Levinson has teamed up with two high-profile PR execs - Rick Frishman and Jill Lublin - to produce GUERRILLA PUBLICITY: Hundreds of sure-fire tactics to get maximum sales for minimum dollars.
"Guerrilla Publicity is a great tool for anyone looking to understand and tap into -- the power of publicity."
--Jim McCann CEO 1-800-FLOWERS.COM

"In my 25 years of promoting my books and programs, I attribute some of my biggest successes to great publicity. This book captures the wealth of information needed to make any book, product, or program a bestseller through publicity!"
--Robert G. Allen, author of New York Times bestsellers Multiple Streams of Income and Multiple Streams of Internet Income and co-author of One Minute Millionaire

"This book has the publicity and marketing tools every business person needs to know today."
--Dr. John Gray, author of Men Are From Mars, Women Are From Venus

"This book is a clear, simple road map that shows you how to get publicity and do it on a budget."
-- Guy Kawasaki, CEO, Garage Technology Ventures